What Are Some Common Signs of Skin Cancer?
Author: Anonymous posted: Jun. 26, 2018.
The most common type of cancer in the U.S. is skin cancer. One in five adults will develop some type of skin cancer during their lives,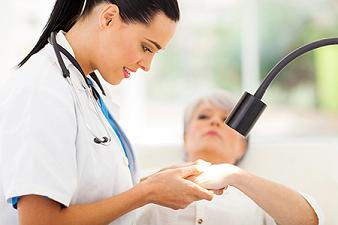 which underscores the importance of being familiar with the common signs of skin cancer. Being able to recognize the signs enables you to seek treatment. Early diagnosis of any type of cancer improves your prognosis and increases the effectiveness of treatment. At Three Rivers Dermatology, Dr. Damon McClain and Dr. Susannah McClain are your dermatologists for the treatment of skin cancer in Pittsburgh, PA.
Types of Skin Cancer
There are many different types of skin cancer. Two of the most common types are basal cell carcinoma and squamous cell carcinoma. A third type of skin cancer that many people are familiar with is melanoma. Melanoma is actually the least common type of skin cancer, but can be the most deadly. Sunburns and extensive sun exposure both increase the risk of developing one of these three types of skin cancer. Regular use of tanning beds can increase your risk of developing skin cancer, as well.
Signs of Skin Cancer
There can be many different signs of skin cancer. Depending on the type, the signs might differ. However, any sudden or unexplained change to the skin is a potential concern. If you notice any of the common signs of skin cancer anywhere on your skin, visit a dermatologist to be screened for skin cancer. Some of the comms signs associated with skin cancer include:
Patches of pink or red scaly lesions
Unexplained sores that repeatedly re-open after healing
Changes in the appearance of existing moles
Sudden bleeding or itching of existing moles
Waxy and translucent come-shaped growths
Brown or black streaks under the fingernails or toenails
Speckled brown spots on the skin
Early detection and treatment of skin cancer is possible when you are able to recognize the common signs and symptoms. For skin cancer screening in Pittsburgh, PA, schedule an exam with Dr. Damon McClain and Dr. Susannah McClain by calling Three Rivers Dermatology at (412) 262-4911.
Tags: Skin Cancer
This website includes materials that are protected by copyright, or other proprietary rights. Transmission or reproduction of protected items beyond that allowed by fair use, as defined in the copyright laws, requires the written permission of the copyright owners.